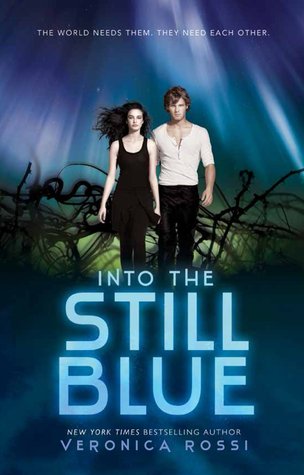 Title: Into the Still Blue (Under the Never Sky #3)
Author: Veronica Rossi
I'm on page 165 of 389 pages which makes me 42% through with the book.
So what I'm Reading Right Now! is Into the Still Blue by Veronica Rossi. This is the third and final book in the Under the Never Sky trilogy. This is one of those strange series where the books get better as they go along. In all honesty, I wasn't blown away by the first book. I didn't love the first half of Under the Never Sky. I thought Aria's world, the world of the Dwellers, wasn't really explained all that much in the first book and it didn't have that vibrancy where you could picture it, but, as I continued reading the books in this series, they kept on getting better. I thought the second half of Under the Never Sky was fantastic, and I absolutely loved Through the Ever Night, the second book. Rossi really excels in describing the world of the "savages," the world of Perry and Roar. I also love the relationships and friendships once Aria becomes a part of the Outsiders. So this third book is so far all kinds of awesome. I'm really enjoying it. It has a lot of action and I just can't wait to see how it all ends. I would definitely recommend this series. I'm planning to read all the novellas too, just so I can devour everything this world and author has to offer. I'm a definite fan of Veronica Rossi's now and can't wait to read what she writes next. So, unless this book takes a turn for the absolute worst, I think I'm going to end up really liking this one and really liking this series as a whole.
So that's it for what I'm Reading Right Now! Tell me what you're reading in the comments below if you want. And tell me if you've read this series and love it like I do.