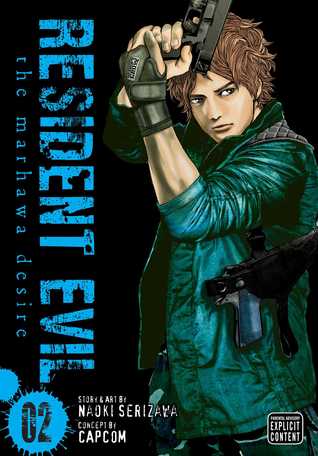 Title: Resident Evil: The Marhawa Desire Volume 2
Author: Naoki Serizawa
Concept by: Capcom
Published by: VIZ Media, LLC
Released: English Edition: 2015
Summary: The Marhawa Academy is under attack from zombies, and the headmistress doesn't want anyone to know. Ricky and his Uncle Doug are still roaming the school, looking for the cause of the outbreak. The B.S.A.A. is still trying to find Professor Wright and hasn't learned of the school yet. There is also a mysterious, hooded woman roaming the campus and devastation seems to follow her. The mysteries keep multiplying at Marhawa Academy.
My Thoughts: Another enjoyable read in this quick, brutal series. The zombies are still present, the headmistress nun is still crazy, and the mysteries keep on multiplying. Volume 2 starts right where Volume 1 ended and I was able to jump right back in to the story no problem. The story was interesting and I had fun while reading it. If you're looking for a fun, zombie series, give this one a chance.
My problems with this book were only minor. The first aggravation is that, just like the first book, this one doesn't really have an ending. My advice to reading these books would be to have all the volumes available in front of you, so you won't have to take a break from the story or suffer from that feeling of having to know what happens next.
My other gripe would be there was a lot of action in this book and it became kind of confusing following from panel to panel. Each panel illustration was full of detail and sometimes I got kind of confused trying to follow along. But those things were only minor and didn't make me not enjoy the story.
All in all, I thought this was another quick, fun read. The story is getting more and more interesting, so I'm excited to check out the next volume.
BOOKCITEMENT LEVEL 3.5/5
A quick, fun zombie ride!