Yep, I took a bit of a break from this. It wasn't intentional. I think I just got too lazy to keep up with posting. Most of my other posts are scheduled posts, which means I can type them up, set a date, and then not worry about it. I can't really do a good scheduled post for Reading Right Now! because I want to feature my current read, and my current read on a Monday is not the same as my current read on a Friday. So I want to keep my Reading Right Now!'s accurate and then I get too lazy to type and post it on the right day. So here's to trying to do better. I might take another hiatus from it again, because I'm being honest with myself and I know I'm lazy, but I'm going to try to post more of these. Anyway, on to the book I'm Reading Right Now! and have been reading pretty much this whole week.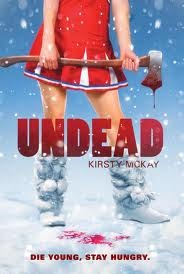 Title: Undead (Undead #1)
Author: Kirsty McKay
I'm on page 188 of 263 which makes me 68% finished.
It's no secret that I love zombie books. I love them so much. So, I was pretty excited to pick this one up and give it a read. I figured it would be perfect as a Halloween read this October. This story is about some kids that go on a school trip to Scotland. On their way back home, they stop at a cafe. Everyone gets off the bus except for two kids, Bobby and Smitty. Something happens in the cafe and everybody turns into flesh eating zombies. Bobby, Smitty, and a few other survivors are now on the run from the hungry horde struggling to survive.
My current thoughts are essentially meh. It's not bad, but it's not great either. Maybe because I've read so many zombie books and have so many that I've loved, that I've come to have a feel or a type of what kind I want. And Undead is not the kind that I just automatically love. It has the zombie elements that I do like in my zombie books, but there's just something about it that's not clicking with me. I'm also not sure if this is trying to be a funny zombie book or a serious zombie book, and I'm not sure it's really excelling at either. I don't know. I'm not the biggest fan of the characters and so maybe that's why I'm not really invested with this book. It's just a meh read for me at the moment.
Once I finish this one, I plan on picking up a graphic novel that I will hopefully fly through. I read the first one and was a fan, so I'm betting I'll like the second one too. And that graphic novel is...
Title: Saga: Volume 2
Creators: Brian K. Vaughan and Fiona Staples
I'm pretty excited for this one. The hype machine for this series is strong. I've read the first one and did really enjoy it. This series is for more mature readers because of some of the content.
So yes. That is what I'm Reading Right Now! and what I plan to read next. If you've read any on these books, tell me what you thought of them? Also, let me know what you're Reading Right Now!