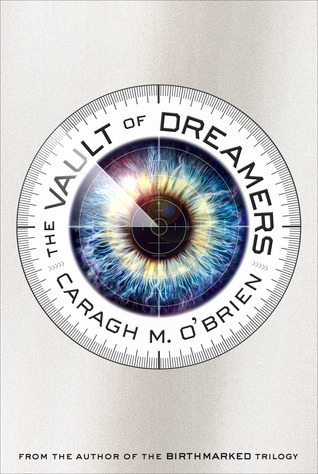 Title: The Vault of Dreamers (The Vault of Dreamers #1)
Author: Caragh M O'Brien
Published by: Roaring Brook Press
Released: 2014
Summary: Rosie Sinclair is so excited to be attending the Forge Academy. A school centered around art and creativity. A perfect place for her to focus on her passion of filmmaking. The Forge Academy is also home to The Forge Show. Cameras follow the students around all day and based on how many people tune in to their feeds, they are ranked on the blip board. Forge Academy also stresses the importance of keeping the students as creative as possible by resting their minds. Each student is given a sleeping pill and they rest for 12 hours each night. One night, Rosie skips her sleeping pill and sees something weird. Something strange happens during the night at Forge and Rosie's determined to find out what it is.
My Thoughts: This was awesome! It took me on quite a ride that I very much enjoyed. This book starts off with a premise of boarding school meets Big Brother. The students are filmed all day and their popularity rank is determined by how many people view their feeds. Rosie's first challenge is to survive the first 50 cuts, so she can stay at the school. That whole idea of being filmed 24/7 is interesting to consider. That whole feeling of never being truly alone.
Then the story morphs into exactly what is happening at the Forge School. By skipping her mandatory sleeping pill, Rosie observes something strange and it makes her question what is going on at the school. It then leads the reader through twists and turns, and many midnight escapades. There even comes a point where I as a reader wasn't exactly sure what to believe. It almost had a bit of a Shutter Island feel there. It was just very interesting and sort of fun to experience.
As a character, Rosie is put in quite a pickle. How can she take her sleeping pill every night, be out to the world and unaware, when she knows there is something strange going on to her and her classmates? Then at the same time, there's the question of what can she really do? I felt that conundrum the entire time I was reading. I liked going on this search for discovery with Rosie, even though I was unsure of how it would end.
This book really made for a fun thriller, where the reader is constantly questioning what's going to happen next. The atmosphere of The Forge Academy added another interesting layer. This didn't end the way I wanted it to. It kind of left me hanging. I'm very interested to read the second book in the series when it comes out. This book also makes you look at how good intentions can sometimes morph into bad, questionable actions.
Bottom line, I really enjoyed this story and would recommend it to anyone else who enjoys a good thriller. This book takes the reader on quite a ride and it's fun being on that ride. It's fast paced with a lot of twists and turns. The ending will leave you wanting the next book.
BOOKCITEMENT LEVEL 4.5/5
So many fun twists and turns. I now have a need for the second book.