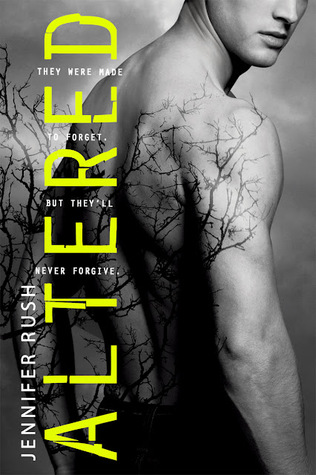 Title: Altered (Altered #1)
Author: Jennifer Rush
Published by: Little, Brown and Company
Released: 2013
Summary: Anna's life isn't exactly normal. On the outside, it might look like it. She lives in a farmhouse with no close neighbors, she's homeschooled, her dad works at home as a scientist. So what makes Anna's life a little different? How about four hot, genetically altered guys living in her basement. Sam, Cas, Trev, and Nick have been trapped in Anna's basement for five years. Her father works at the mysterious Branch, taking care of the boys and monitoring them is his job. Anna sneaks down to see the boys every night and has developed quite a big crush on the quiet and serious Sam. Then the day arrives when the Branch comes to take the boys away. Sam stages an escape and Anna is told by her father to go with them. On the run, fighting for her life, Anna embarks on a journey to help the boys find out who they really are and maybe find out a little about herself in the process.
My Thoughts: Awesome! Loved it! Really enjoyed it from start to finish. I was first drawn to the story by the idea of four genetically altered boys trapped in this girl's basement. Four very attractive and strong boys. This book was just a lot of fun to read. It really felt like a fun action movie where there are mysteries to solve, people to run from, and a whole lot of action.
I liked all the characters. Each boy offered a little something different to the team and the story. Anna was alright as the main girl. She was able to hold her own and was actually pretty tough and good in a fight. Anna's dad was also a cool guy.
If I had to pick my guy crush out of the mix, it might be a tie between Sam and Nick. Sam is of course hero material, which makes him crush worthy. Nick is surly and seems to have a hard shell that will have to be broken, but he's so HOT!! But part of the fun of the book is deciding which boy you like the best.
Also there were so many twist and turns and discoveries that I didn't see coming. Definitely edge of your seat reading.
All in all, I loved this book. Such a fun, fast read. It's an action movie in book form with hot guys. I recommend it to everyone and I will definitely be picking up the sequel soon.
BOOKCITEMENT LEVEL 4/5
So much fun! It's an action movie in book form.