Hey guys! I'm really excited to be a part of the Blog Tour for The Perfect Date by Evelyn Lozada and Holly Lorincz. I was provided with a free e-arc for my honest review. Thanks so much to St. Martin's Griffin and the Authors for letting me be a part of this fun tour.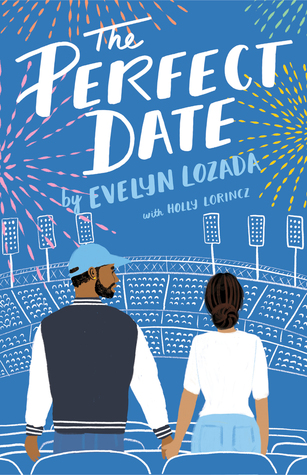 Title: The Perfect Date
Authors: Evelyn Lozada with Holly Lorincz
Published by: St. Martin's Griffin
Released: June 11, 2019
Source: Review Copy from Publisher
Synopsis:
Angel Gomez only wants to get through nursing school and earn enough to support her mother and her son, Jose. Her bartending job helps bring in some extra cash, and the last thing she's interested in is flirting or men in general.
Caleb "The Duke" Lewis is an up and coming star for the Yankees, known for getting around. However, his last breakup left him distracted and made him turn to drink. When he's caught by the Yankees manager at a party instead of training, he's suspended and sent back to the Bronx to get his head straight.
Angel and Duke's worlds collide one night at the club and sparks fly. Though Angel wants nothing to do with Duke, he has no intention of letting her slip through his fingers. She isn't star-struck by his fame, and this might be just what he needs to get things in order. He'll do anything to convince her…even make her an offer she can't refuse. (Synopsis from Goodreads)
My Thoughts: I received a Free Review Copy from St. Martins Griffin of The Perfect Date for my honest thoughts and opinions. I was so excited when they asked me to be a part of the Blog Tour. I was immediately drawn to the cover of The Perfect Date because it just looks so cute!!
I enjoyed the story. It was fun, it was fast, and I did like the romance. I really enjoyed the premise of The Perfect Date, that's probably what drew me in the most. I wanted to get to know these characters, see what would happen in their lives, and be watching for their Happily Ever After.
I won't say Angel Gomez and "The Duke" were my favorite characters ever. They had some issues. They weren't nice all the time. I don't know if I'd want to be friends with them, but I was interested in reading their story.
I thought the writing was pretty good. It flowed really well and I never got bored.
If you're interested in The Perfect Date, I'd definitely say give it a read. I know the Goodreads Rating it has right now is a little scary, but I'm of the belief that you should form your own opinions about books (or anything really) instead of just going with the herd.
Thanks so much again to St. Martin's Griffin. I really enjoyed being a part of this Blog Tour!
The Authors
EVELYN LOZADA, is a high-profile American-Latina reality television personality, entrepreneur, author and philanthropist. She is best known for her role on VH1's hit series Basketball Wives (2010-present), OWN's hit series Livin' Lozada (2015), author of the first installment of the book series: The Wives Association: Inner Circle (2012) and creator of Healthy Boricua (A Puerto Rican Lifestyle Guide to Healthy Living). Evelyn has become a national trendsetter, a "go to" fitness export, jewelry designer, fashion and beauty maven, social media royalty and a stimulating voice and proactive supporter of causes that effect women and girls through the Evelyn Lozada Foundation. Evelyn is a Bronx native, mother of two (Shaniece Hairston and Carl Leo Crawford) that currently resides in Los Angeles.
Holly Lörincz is a successful collaborative writer and owner of Lorincz Literary Services. She is an award-winning novelist (Smart Mouth, The Everything Girl) and co-author (best-selling Crown Heights, and How to Survive a Day in Prison) living in Oregon.