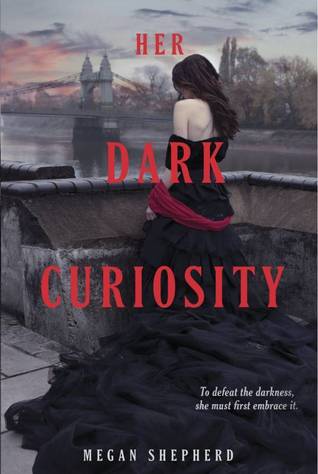 Title: Her Dark Curiosity (Madman's Daughter #2)
Author: Megan Shepherd
Published by: Balzer + Bray
Released: 2014
Summary: Juliet Moreau thought she had left the horrors behind when she left her father's diabolical island. Now living in London as the ward of kindly Professor Von Stein, Juliet is trying to forget the horrors of her recent past. Then London is plagued by murders. Victims each slashed across the chest as though by a claw and blood soaked tropical flowers left at all the scenes. Juliet thought she had left that island behind, but could this be the work of one of her father's creations? Juliet must discover the criminal and protect those she loves before it is too late.
My Thoughts: I'm going to attempt to do this review without any spoilers because spoilers are just not right! I read The Madman's Daughter in 2013 and loved it. It was one of my favorite books for 2013. It was so dark, creepy, and atmospheric. I was very excited to get my hands on the sequel and see what Megan Shepherd had in store for Juliet next. I can happily say that I wasn't disappointed. I enjoyed Her Dark Curiosity just as much as the first one. Shepherd came up with a way to keep that dark, creepy feeling present in the story and was able to work in aspects of another well known classic tale, Dr. Jekyll and Mr. Hyde, into the mix. It was very fun to read. Once you pick it up, there is that urge to continue reading until the very end. I enjoyed the historical setting and the dark tone of the story very much.
I even enjoyed the love triangle, because Shepherd really made it more of an adult one. Juliet is a naughty little minx. I was even a little torn on what way I wanted it to go, who I wanted her to be with. Each boy offers her something, they each have a draw to her beyond mere attraction. I am going to stick with my choice of Montgomery for her though because I like him and it seems right.
I don't know what to do with the ending though because it's not an ending. Now I'm just going to be on pins and needles for the next book which comes out early 2015. Not a super long time, but I want it now! I want to see how this all ends.
So my review in short, just as good and enjoyable as the first book. Has a great dark and creepy feel, a main character who's not sweet and innocent, and two love interests that each have their own pull. Shepherd is a great writer and has created a great series. I can't wait to see how it ends. Totally recommend this one.
BOOKCITEMENT LEVEL 4.5/5
Delightfully Dark!