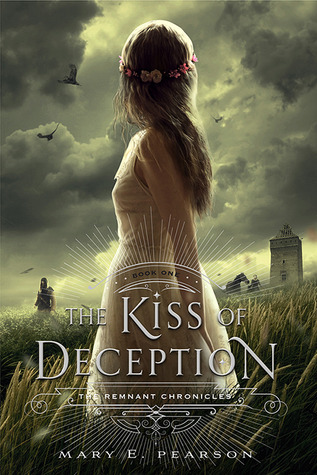 Title: The Kiss of Deception (The Remnant Chronicles Book One)
Author: Mary E. Pearson
Published by: Henry Holt and Company, LLC
Released: 2014
Summary: The realm of Morrighan is steeped in tradition, tradition that Princess Lia hates. Being Princess and First Daughter, Lia feels like her life is not her own. That fact is made even more apparent when a marriage contract is set up for her with a prince she's never met. Fed up with a life that offers no choices, Lia flees on her wedding day. Determined to make a new life for herself and be able to choose her own love, Lia travels to Terravin and starts working in an inn. Little does she know that the jilted prince and an assassin are on her trail, determined to find her. The jilted prince wants to bring her back, while the assassin has been sent to kill her. Can Lia find happiness and what does her destiny hold?
My Thoughts: So, so good! Fantastic book and I enjoyed every single page. It offered something different than what I was initially expecting. I loved the medieval, fantasy aspect to it and all the magic that was in this world Lia lived in. Such a good book with so many things happening in it.
I will say that I read this book kind of slowly, but it wasn't because of the book, but more because of me. This book was just really good and drew me in to this journey that Lia embarks on. I liked Lia as a character. She wasn't whiny or annoying and she really seemed to grow throughout the story. Being involved in her story was fun.
The world was really interesting too. I wanted to know more about these Ancients that lived there before and what happened to them. I almost expected a twist, like people of today's time were the Ancients, but that didn't happen. I just really liked the feeling of the world.
Probably one of my favorite parts of the book was the mystery surrounding the Prince and the Assassin. I really enjoyed how the author kept me guessing and never really sure until a pivotal point in the story. I tried to figure out who was the Prince and who was the Assassin, Kaden or Rafe, on my own, but in the end I was totally wrong in my guesses. I'm also torn on which boy to root for because they are both so interesting. As of right now, I would say Rafe, but Kaden is following in a very close second and I feel that there is more to learn about him too. It's a tough, tough choice.
And Oh that ending, I've got to know what happens next. What is Lia going to do about pretty much everything.
All in all, I thought this was a fantastic book. It offered a mythical, magical world, a strong female protagonist, enough secrets from everybody to keep me thoroughly curious and on the edge of my seat, and two boys to root for. A great book and a fabulous start to a new series. Can't wait to get my hands on the next one.
BOOKCITEMENT LEVEL 4.5/5
Fantastical!