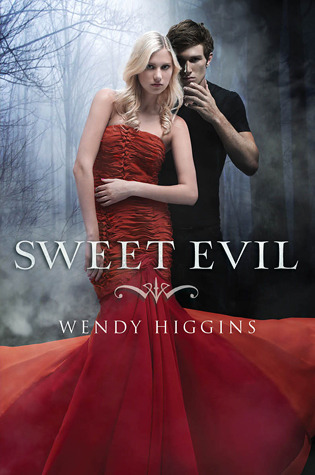 Title: Sweet Evil (Sweet Evil Book 1)
Author: Wendy Higgins
Published by: HarperTEEN
Released: 2012
Summary: Anna Whitt has always been the good girl. She respects her adoptive mother, gets good grades in school, and resists temptation. Some temptations are harder for her to resist than others. Then Anna meets a bad boy, a boy she can't get out of her mind. Kaidan Rowe is all the things she should stay away from, but she just can't. Then Anna finds out she and Kaidan have more in common then she realized. Anna discovers that she is the offspring of a demon and an angel, the only one of her kind. Should she embrace her angelic side or fall to her demon side? It's up to Anna to ultimately decide.
My Thoughts: There are some books that you just read the first page and know you are going to enjoy it, Sweet Evil was one of those books for me. I just really enjoyed reading the story, Higgins writing style pulled me in and kept me entertained to the last page. I enjoyed this world she built of demons being all around and tempting us. Anna and Kaidan were just fun characters to read about.
I will say that for it being such a chunk of a book, it really didn't have all that much going on inside of it. Not that I didn't enjoy the story, because I did, but in the grand scheme of things nothing really happened in it. The jumps in time also threw me a little. But that is only my minor opinions.
I really enjoyed this book and plan on picking up the others in the series soon. It was just fun reading.
BOOKCITEMENT LEVEL 4/5
Give into temptation and pick up this book!