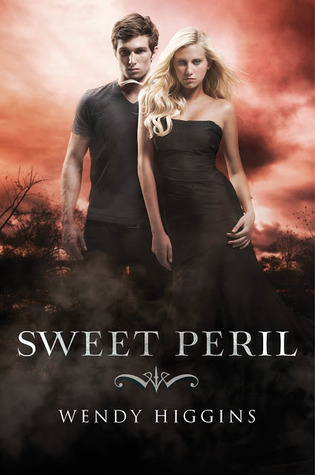 Title: Sweet Peril (Sweet Evil #2)
Author: Wendy Higgins
Published by: HarperTeen
Released: 2013
Summary: Being a half-angel, half-demon is tough. After surviving the disastrous summit of last year, Anna is back in Atlanta, but she's not such a good girl anymore. Anna has started working. She parties and tries to influence humans to her sin of drugs and addiction. Anna isn't happy though, she hasn't seen Kaidan since that Summit and it seems he's been avoiding her on purpose. When Anna becomes aware of a prophecy concerning her, her life takes another turn. Anna must now travel the globe finding allies, hopefully to rid the world of demons for good.
My Thoughts: Another enjoyable book by Wendy Higgins. There is just something about her writing and stories that really draw me in. Was it an amazing story? Probably not, but I enjoy reading this series. So far, they have all been fun, fast reads. The story in this one was entertaining with a lot of traveling and romance.
I will admit that it did have a bit of that second book feel, just in how the story was being set up for the finale in the third book. I also got a bit of the Twilight feel at one point, because there was a bit of an unnecessary love triangle happening. It was like in the second book of the Twilight series, where Edward and Bella are separated and then Jacob ambles in to ease Bella's pain. In Sweet Peril, it was Kaidan and Anna separated with Kope coming in to try and fill the void. Can't say I really enjoyed it because I don't buy the whole Kope/Anna thing.
We did get to spend a lot of time with the other Nephilim, which was a lot of fun. And the ending was a little exciting because you get a taste of what the finale will be.
All in all, I enjoyed this book. I think this series is just a fun, fast read and you can't go wrong with reading it. Wendy Higgins' writing is just so fun and addictive, it will keep you reading long into the night. The romance is steamy and Kaidan is a hottie. The demon/nephilim concept is just really interesting to read about too. Sweet Peril is just a fun read.
BOOKCITEMENT LEVEL 4/5
Fun and Addicting!