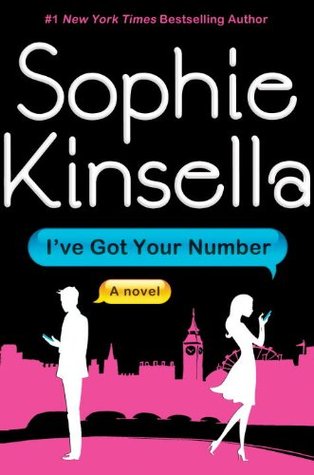 Title: I've Got Your Number
Author: Sophie Kinsella
Published by: The Dial Press
Released: 2012
Source: Library
Summary: Poppy Wyatt has lost the only thing she was never supposed to lose, her engagement ring! Not just any old engagement ring, but an antique, family heirloom of her fiance's. Poppy is desperate to find it, and when her cell phone gets stolen, she's desperate to find a replacement for that too!
Spying a phone in a trash bin, Poppy adheres to the old rule finders keepers, and takes it. Only problem is, that phone belongs to business man Sam Roxton, and he wants that phone back. Reaching a compromise, Poppy promises to forward all work emails to him in exchange for letting her borrow the phone. But when Poppy starts reading the emails and getting involved in the life of Sam Roxton, hilarity and something more ensues.
My Thoughts: What a wonderful, cute, fantastic, romantic, and just plain awesome book! I love Sophie Kinsella, and this book just further cements my love for her. I'm going to try to keep this gush fest short and sweet, because I loved this book, and there's only so much gushing I can do before it borders on annoying.
The things that make Sophie Kinsella's books great are the characters, the hilarious situations, and the sweet, romantic stories. Poppy Wyatt is a great character, who I loved from the first page. I could only laugh at all the various situations and messes she got herself into. Sam Roxton was such a cute businessman and heartthrob.
Great, great book. For all those readers out there who haven't picked up a Sophie Kinsella book, do so now! You won't regret it. In fact, you should start with I've Got Your Number. Fun, enjoyable reading from start to finish.
BOOKCITEMENT LEVEL 5/5
Sophie Kinsella is the bestest and Poppy is a lovable snoop.