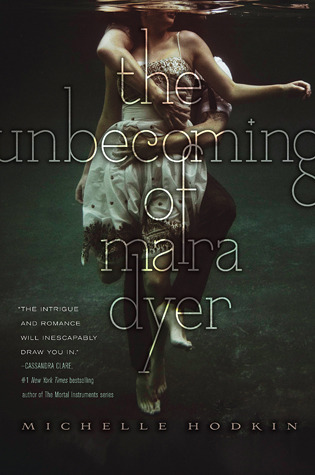 Title: The Unbecoming of Mara Dyer (#1)
Author: Michelle Hodkin
Published by: Simon & Schuster/BFYR
Released: 2011
Source: Library
Summary: After an accident kills her friends and leaves her mysteriously unharmed, Mara Dyer and her family move to Florida, with the hope of having a fresh start. On her first day at her new school, Mara meets the mysterious and handsome Noah Shaw. She's drawn to him.
Florida doesn't offer the fresh start that Mara hopes for, her past has followed her, and haunts her waking moments and dreams. With the help of Noah, Mara must discover what's really happening to her, and make peace with the accident that claimed her friends' lives.
My Thoughts: I really don't know what to say. This book was like nothing I've ever read before. It's very mysterious, spooky, and at many times confusing as all get out. I had trouble deciphering what was real and what was imagined. I found this to be a very intriguing and interesting story, and I really did enjoy reading it. This book was something else and I'm interested to see what happens to Mara and Noah next.
The character of Mara was an interesting one. I enjoyed her sense of humor and her snappy comebacks. Her struggle with PTSD was something to behold. She goes through so many highs and lows in this story, and keeping up with all of them proved to be a bit of a brain workout. Her story was interesting and spooky.
Noah was an interesting character too. He proved himself to be a very different character than the rumors people said about him. I liked his protectiveness towards Mara and his open-mindedness regarding her story. I though Mara and Noah made a good pair.
The overall story was interesting, and a tad bit confusing. I was very interested in what was going on and the ultimate bigger story. Hodkin did a great job of creating creepy atmospheres and situations, plus keeping this reader on the edge of her seat! Sometimes I had trouble keeping up with what was going on. Distinguishing between reality and hallucination was really hard sometimes. Very interesting though.
Overall, I really liked this book. It was very mysterious and interesting. I can't wait to find out what happens in the next one.
BOOKCITEMENT LEVEL 4/5
What Is Going On!?!