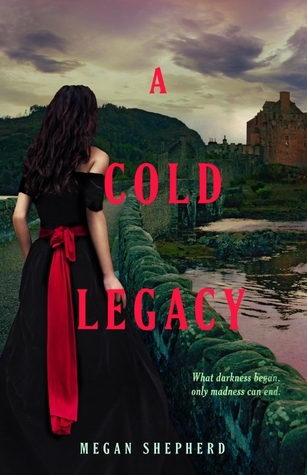 Title: A Cold Legacy (The Madman's Daughter #3)
Author: Megan Shepherd
I just started this today. I'm on page 22 which probably makes me about 5% finished with this book.
What I'm Reading Right Now! is A Cold Legacy by Megan Shepherd. This is the third and final book in The Madman's Daughter trilogy. And I just want to say that I'm so excited. I really love this series. I devoured the first two books and can't wait to see how it all ends. I'm hoping that it doesn't disappoint me, but I don't think it will. All I know is that Megan Shepherd has become one of my auto-read authors. I just love her books. Later this year, I think a new one is coming out by her and I can't wait to pick it up and read it.
Okay back to the book, for those that don't know what this series is about, don't worry, I'll tell you. Also don't worry because I'm not going to spoil anything. That would be mean. Each book in this series is influenced by a famous horror tale. The first book, The Madman's Daughter, is based on Dr. Moreau's Island. Now, I had never heard of that famous horror tale before, maybe someday I'll check it out. But in The Madman's Daughter, our main character Juliet has kind of been orphaned. Her mother has died and her father left after rumors started circulating about him conducting experiments against nature. Juliet doesn't know if her dad is alive or dead. She then just happens to run into her father's young assistant, Montgomery, and makes him take her to her father. Her father happens to be residing on an island in the middle of nowhere. Once Juliet gets there, she realizes that her father is not a nice man and he's still conducting his insane experiments. Some of his experiments are dangerous. But the biggest horror for Juliet is that she might be like her father. That madness could run in the blood.
The second book, Her Dark Curiosity, is based of the classic tale of Dr. Jekyll and Mr. Hyde. And this third and final book, A Cold Legacy, is based of the classic tale of Frankenstein. So hopefully, from my descriptions, I sold you on the series. It's really creepy, dark, gothic, and fun. I just very much enjoy these books.
I can't really say a whole lot about the third one yet because I just started it, but so far I am enjoying it. I love Megan Shepherd's writing, it just kind of pulls me in from the very first page. This one has started right where A Dark Curiosity left off. I can't wait to see how everything ends. And I'm also excited because once I finish this, I will have another completed series to add to my list for 2015 Woo Hoo!
So that's what I'm Reading Right Now! Tell me what you're reading in the comments below. Also, have any of you read this series? And if you have, do you love it as much as I do?